Joe Weider's Mr. Olympia event remains the most popular bodybuilding competition in the world. Since its inauguration in 1965, the event has served the world incredible talents. The most recent winner of the Mr. Olympia title is Mamdouh Elssbiay. Also, there have been multiple-year wins by outstanding champions. Therefore, join us on the ride back in time to the very beginning of Mr. Olympia. Here, we will provide you the full winner's list and most of Mr. Olympia's wins.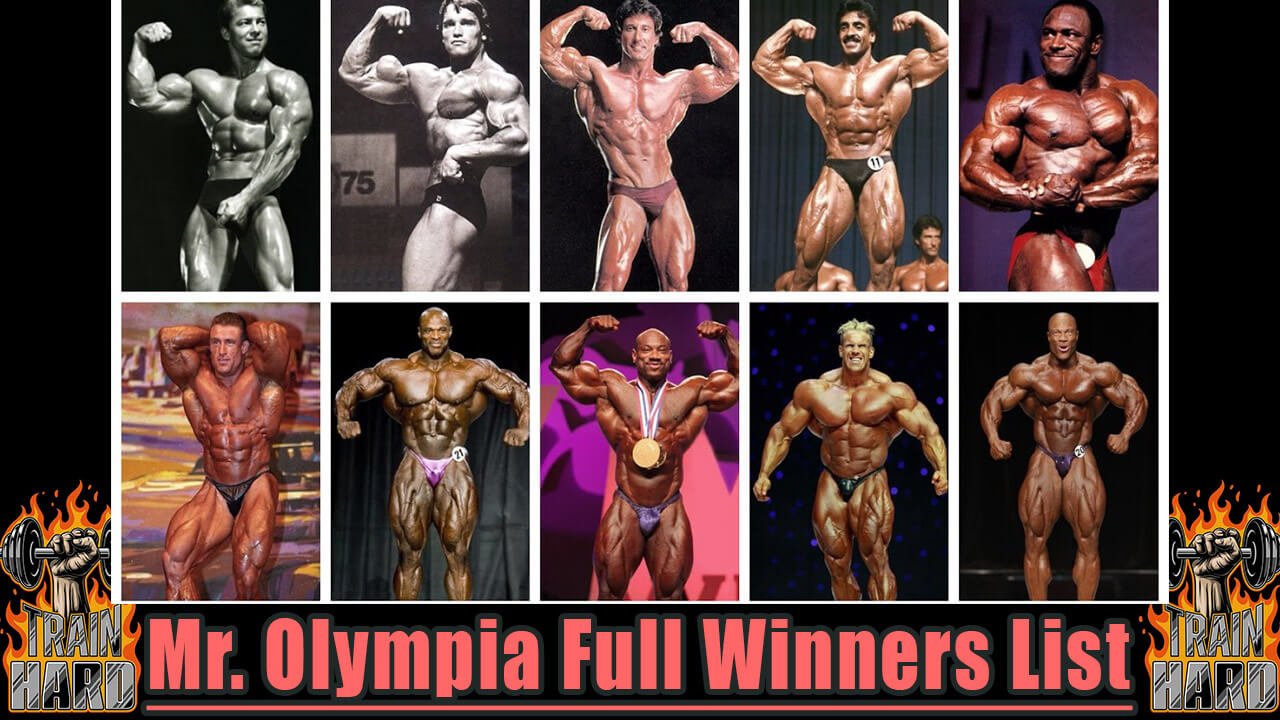 Larry Scott (1965-1966)
Larry Scott is the first Mr. Olympia winner in 1965. After his first victory, he went on to reclaim the title in 1966. Of course, his success marked the beginning of greater success in Olympia.
Sergio Oliva (1967-1969)
Sergio Oliva with his outstanding physique. takes over the championship in 1967. Actually, he set a record for winning over one of the most popular champions. Then, he maintained his position for two years before losing to the next Mr. Olympia.
Arnold Schwarzenegger (1970-1975, 1980)
Arnold remains the most popular winner of the Mr. Olympia title. Since the legend made his first win in 1970, he went on to bag 7 more wins! Indeed, he had an amazing bodybuilding career before proceeding to his acting career.
Franco Columbu (1976, 1981)
Franco Columbu is popular for his heavily built chests and upper body stance. Firstly, he smashed his debut Mr. Olympia win in 1976. He also got another win in 1981 to become a two-time winner of the title.
Frank Zane (1977-1979)
Meet the bodybuilding aesthetics king. Frank Zane had his first Mr. Olympia title in 1977. He went further to crush more goals in 1978 and 1979. This marked his three-time wins in a row.
Chris Dickerson (1982)
In 1982, Chris Dickerson set the record as the first black and gay contestant to win the Mr. Olympia title.
Samir Bannout (1983)
Undoubtedly, Olympia showcases the best talents across the globe. Samir Bannout had his first bodybuilding win in 1974. In addition, He solidified his bodybuilding career in 1983, when he competed with other world champions to bag the Mr. Olympia title.
Lee Haney (1984-1991)
Lee Haney stands as one of Mr. Olympias with the most wins. Clearly, he made the landmark achievement in 1991 when he beat Arnold Schwarzenegger. This made him an eight-time winner since his debut win in 1984.
Dorian Yates (1992-1997)
Dorian Yates had a great time dominating Mr. Olympia with his huge size. For six years straight, he made a strong line of 6 wins from 1992-1997.
Ronnie Coleman (1998-2005)
The Legendary Ronnie Coleman is renowned as one of the best in the bodybuilding world. He doubled as a bodybuilder and a full-time police officer during his career. Still, he went on to make a whopping 8 time Mr. Olympia win! He seconds Lee Haney as the man with the most Mr. Olympia wins.
Jay Cutler (2006-2007, 2009-2010)
Jay also got on the winning board in 2006 and went on to win three more Mr. Olympia titles to his name. However, he pushed forward discouraged with his fallout in 2001, and joined the league of legends.
Dexter Jackson (2008)
Dexter Jackson won the 2008 Mr. Olympia title. Since then, he has continually strengthened his portfolio to be one of the best in bodybuilding.
Phil Heath (2011-2017)
The basketball star, Phil Heath is one of the most recent winners of Mr. Olympia. He marched into bodybuilding and acquired 7 consecutive wins! Indeed, he is a champion.
Shawn Rhoden (2018)
Shawn Rhoden is a popular name in the bodybuilding world. Before his Mr. Olympia win, he had amassed 27 professional titles! Fortunately, his Mr. Olympia title marks his biggest win in bodybuilding.
Brandon Curry (2019)
Brandon Curry was also able to get the crown for himself in strong competition against Hadi Chopin. Despite all, he stepped off the shadows to join the winning gang with his goal in 2019.
Mamdouh Elssbiay (2020)
Also known as Big Ramy, Mamdouh Elssbiay broke into the bodybuilding scene in 2010. He still kept on with struggle over the years without one win. However, his struggle finally paid off in 2020 when he nailed his first Mr. Olympia win. Of course, his win marks the most recent on the recent. Who knows? He might still be warming up for more Mr. Olympia wins.
FINAL WORDS
Undoubtedly, all titles and prizes acquired in the Olympia event are great accomplishments. Apparently, the Mr. Olympia title is bodybuilding's most popular, and the ultimate prize. The review of the winners above has solidified the high reverence attributed to the title. Certainly, these winners have been proved worthy of their positions as champions. However, who is the next Mr. Olympia? If you also want to know wh will be this year Mr. Olympia then watch Mr. Olympia on TV.