Prepare yourself for an electrifying showcase of power, discipline, and passion as Prague, the enchanting capital of the Czech Republic hosts the prestigious DIAMOND CUP PRAGUE 2023. This international bodybuilding event promises to be a sensational display of human physique artistry and athletic dedication. With participants hailing from across the globe, DIAMOND CUP PRAGUE is set to be a testament to the unwavering commitment of bodybuilders and fitness enthusiasts. Let's dive into the details of this extraordinary celebration of bodybuilding excellence.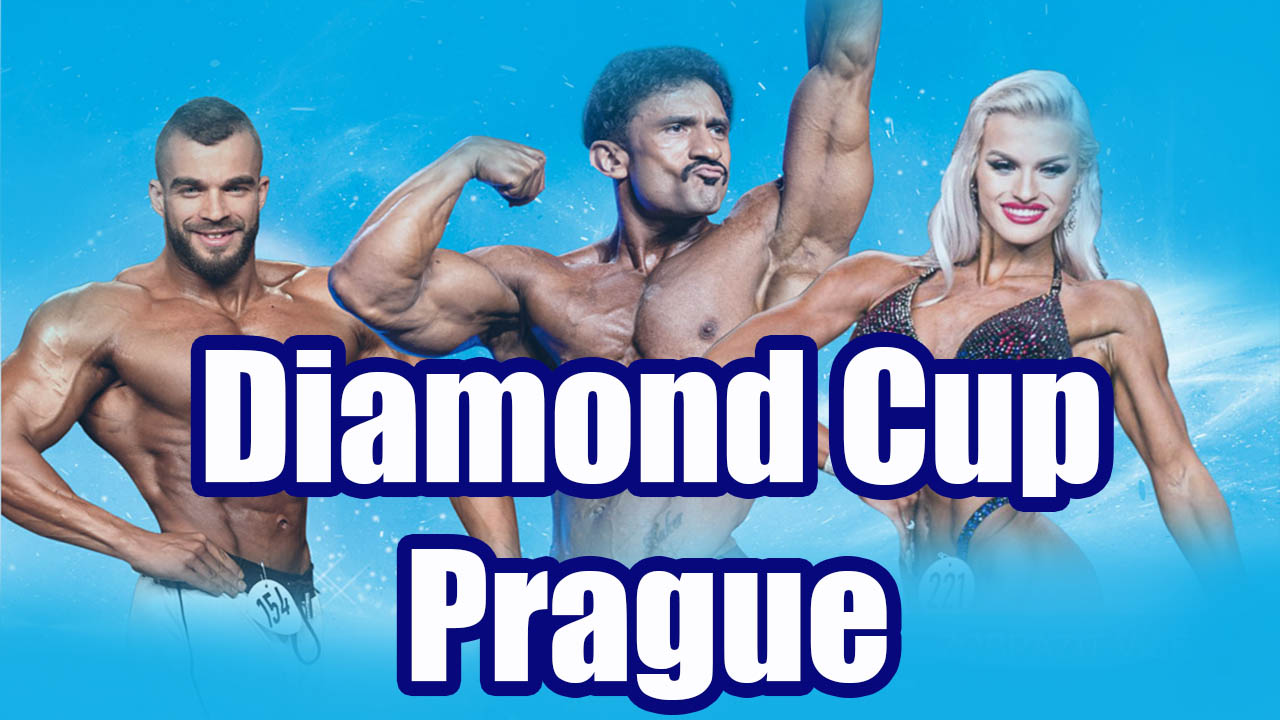 DIAMOND CUP PRAGUE 2023
Location:
Prague, 

Czech Republic

Date:

September 29th

 – 

October 1st, 2023

Live Stream:
Watch Now
Diamond Cup Prague: A Majestic Host
Prague, known as the "City of a Hundred Spires," offers an exquisite blend of history, architecture, and culture. Its stunning landscapes along the Vltava River, historic Old Town Square, and charming streets provide an enchanting backdrop for the DIAMOND CUP PRAGUE 2023. Competitors and spectators alike will have the privilege of immersing themselves in Prague's rich heritage while celebrating the pinnacle of bodybuilding.
Diamond Cup Prague Competition Categories
DIAMOND CUP PRAGUE 2023 will feature a diverse array of competition categories, each designed to spotlight different facets of physique and fitness. These categories include:
Men's Bodybuilding:
A demonstration of raw strength, symmetry, and conditioning, where competitors unveil their meticulously sculpted physiques.
Women's Bodybuilding:
Combining grace and might, female athletes exhibit their dedication to crafting powerful and sculpted bodies.
Men's Physique:
Focusing on aesthetics and proportion, this category accentuates a well-defined upper body and V-taper.
Women's Physique:
Celebrating muscle and femininity, this category features strong and sculpted female athletes.
Bikini Fitness:
Renowned for its fusion of athleticism and glamour, this category highlights a lean and toned physique.
Fitness:
Athletes in this category perform routines that showcase their physical and artistic abilities, blending strength, flexibility, and grace.
Classic Bodybuilding:
Merging traditional aesthetics with modern physique ideals, this category emphasizes symmetry and proportions.
Figure:
This category underscores a balanced and athletic physique, with a focus on muscle definition and overall presentation.
Men's Classic Physique:
Combining muscle size and definition with a classic look, this category pays homage to the golden era of bodybuilding.
Inspiration for Aspiring Athletes
DIAMOND CUP PRAGUE serves as a wellspring of inspiration for aspiring bodybuilders and fitness enthusiasts. The discipline, dedication, and perseverance exhibited by these athletes in pursuit of their dreams serve as a powerful testament to the potential of the human body. The event encourages a healthy and active lifestyle while nurturing camaraderie among competitors and fans.
Beyond the competition, DIAMOND CUP PRAGUE 2023 will feature captivating entertainment, fitness expos, and opportunities for fans to meet their favorite athletes. This transforms the event into not merely a celebration of bodybuilding excellence but also a grand spectacle for all to relish.
 How to Register for Diamond Cup Prague 2023
Registration for Diamond Cup Prague typically involves several steps, including:
Visit the Official Website:
Start by visiting the official event website, where you'll find detailed information about registration requirements, categories, and deadlines.
Create an Account:
Many events offer online registration, so you may need to create an account on the event website or a registration platform associated with the event.
Complete Entry Forms:
Fill out the necessary entry forms with accurate personal information, the chosen competition category, and any requested documentation.
Pay Registration Fees:
Pay the registration fees, which can vary depending on the category and event rules. Payment methods may include credit cards, bank transfers, or other options specified by the organizers.
Submit Required Documents:
Ensure that you provide any required documents, such as proof of age, medical clearances, and photos, as specified in the registration guidelines.
Confirmation:
Once you've completed the registration process, you should receive a confirmation email or notification. Keep this confirmation for reference.
How to Prepare for Diamond Cup Prague 2023
Preparation for Diamond Cup Prague involves rigorous training, nutrition planning, and logistical considerations. Here are some essential steps for competitors:
Training

Follow a well-structured training program that aligns with your chosen competition category, emphasizing strength, conditioning, and symmetry.

Nutrition:

Consult with a qualified nutritionist or coach to create a tailored meal plan that supports muscle growth, fat loss, and peak performance.

Travel and Accommodation:

Plan your travel arrangements, including flights, accommodation, and transportation to and from the event venue, well in advance.

Posing Practice:

Dedicate time to practice posing routines regularly to showcase your physique and grace during the competition.

Mental Preparation:

Maintain a positive and focused mindset to handle the pressures of the competition day.
How to Watch Diamond Cup Prague Live Stream
To watch DIAMOND CUP PRAGUE 2023 via live stream, consider the following:
Official Website:
Check the official event website for information on live streaming. Look for a dedicated section that provides live stream details, including links and schedules.
Social Media:
Monitor the official social media channels of the event and the IFBB for live stream announcements, links, and real-time updates on the competition.
Streaming Services:
Some sports streaming platforms or fitness-related websites may offer coverage of the event. Keep an eye out for such services and check if they are broadcasting the competition.
Pay-Per-View:
Depending on the event's setup, there may be a pay-per-view option to access the live stream. Details and pricing can usually be found on the official event website.
How to Buy Diamond Cup Prague 2023 Tickets
To purchase tickets for DIAMOND CUP PRAGUE, follow these general steps:
Official Website:
Visit the official event website and navigate to the "Tickets" or "Buy Tickets" section. There, you will find information on ticket availability, prices, and purchase options.
Authorized Ticketing Platforms:
Some events utilize authorized ticketing platforms like Ticketmaster or Eventbrite for ticket sales. Check these platforms for ticket availability and pricing.
Box Office:
If you're in Prague during the event dates, consider purchasing tickets directly from the venue's box office. Ensure you have information on the venue's location and operating hours.
Local Resellers:
Occasionally, local resellers or travel agencies may offer event tickets as part of travel packages. If buying from resellers, exercise caution to ensure the tickets are legitimate.
More Information about Diamond Cup Prague
For comprehensive and up-to-date information about DIAMOND CUP PRAGUE 2023, competitors, and spectators can refer to several sources:
Official Website: The event's official website is the primary source of information. It provides details on competition categories, schedules, rules, contact information for event organizers, and any news updates related to the event.
Social Media: Follow the official social media channels of the DIAMOND CUP PRAGUE and the International Federation of Bodybuilding & Fitness (IFBB) for the latest news, updates, and behind-the-scenes content. This includes platforms like Facebook, Instagram, Twitter, and YouTube.
FAQ About DIAMOND CUP PRAGUE 2023
When and where is DIAMOND CUP PRAGUE 2023 taking place?
It will take place from September 29th

 – 

October 1st, 2023 in

Prague, 

Czech Republic.

For specific dates and venue information, please refer to the official event website or promotional materials.
Can I watch the event online?
Yes, the event often offers a live stream for online viewing. Check the official website and social media channels for details.
How can I register as a competitor?
Registration details, including entry forms and requirements, can be found on the official event website. Follow the registration instructions provided.
What are the competition categories featured in the event?
DIAMOND CUP PRAGUE typically includes a range of categories, such as men's and women's bodybuilding, men's and women's physique, bikini fitness, fitness, classic bodybuilding, figure, and men's classic physique.
Is there a registration fee for competitors?
Competitors are often required to pay a registration fee to enter the competition. The fee varies depending on the category and event rules.
Are there any drug testing policies in place for competitors?
The event may conduct drug testing to ensure fair competition. Competitors should familiarize themselves with the organization's anti-doping policies and comply with them.
Conclusion
DIAMOND CUP PRAGUE 2023 promises to be an unforgettable experience, where the world's finest bodybuilders and fitness enthusiasts will unite to showcase their remarkable dedication, hard work, and passion for the sport. Prague's blend of history and modernity, coupled with the international allure of DIAMOND CUP, makes this event a must-attend for fitness aficionados and sports fans alike. Mark your calendars for this thrilling event, as it is poised to etch a lasting impression on the world of bodybuilding.