The world of bodybuilding and fitness has always been an arena where individuals sculpt their physiques into awe-inspiring forms of art, pushing the boundaries of human potential. In the picturesque country of Montenegro, a nation known for its stunning landscapes, rich history, and fierce determination, the MR. UNIVERSE MONTENEGRO competition emerges as a celebration of fitness and excellence. This prestigious event serves as a platform for athletes to showcase their dedication, discipline, and passion for the sport of bodybuilding.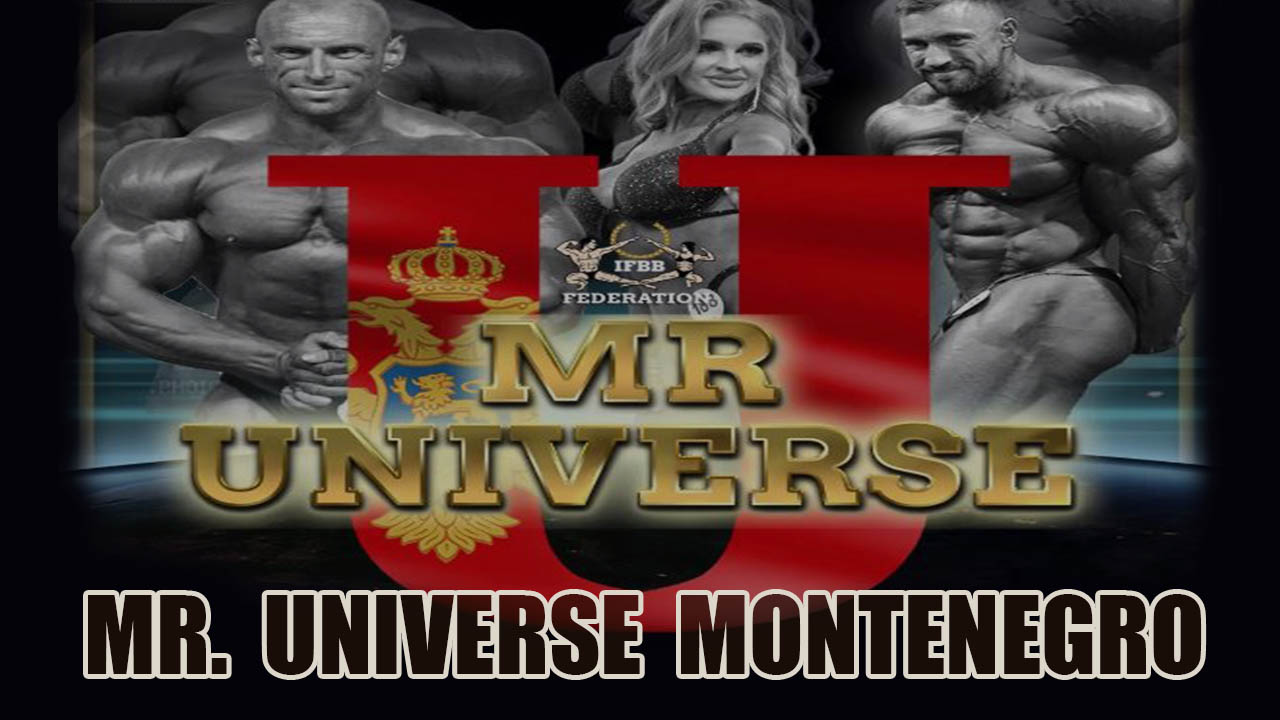 MR. UNIVERSE MONTENEGRO 2023
Location: 
Tivat, Montenegro
Date: 

September 15

 – 

September 17

, 2023
Live Stream: 
Watch Now
Montenegro: The Ideal Host for MR. UNIVERSE
Nestled in the heart of the Balkans, Montenegro boasts breathtaking coastlines along the Adriatic Sea, rugged mountains, and a rich cultural heritage. This unique combination of natural beauty and a resilient spirit makes Montenegro the perfect backdrop for the MR. UNIVERSE MONTENEGRO competition. Athletes and fitness enthusiasts from across the globe are drawn to this stunning country to participate in and witness this extraordinary event.
The Significance of MR. UNIVERSE MONTENEGRO
MR. UNIVERSE MONTENEGRO is more than just a bodybuilding competition; it's a celebration of human potential and the pursuit of excellence. This event serves as a testament to the dedication, discipline, and hard work required to achieve peak physical condition. Competitors spend years honing their bodies and perfecting their routines, making MR. UNIVERSE is a showcase of the human body's remarkable capabilities.
MR. UNIVERSE MONTENEGRO Competition Categories
The MR. UNIVERSE MONTENEGRO competition features a diverse range of categories to accommodate various age groups and experience levels. These categories include:
Men's Bodybuilding:
This category highlights the pinnacle of male physique development, emphasizing muscle mass, symmetry, and conditioning.
Women's Bodybuilding:
Female bodybuilders display their dedication and strength, combining muscularity and femininity in a visually stunning manner.
Classic Physique:
Combining the aesthetic qualities of bodybuilding with a focus on symmetry and proportion, this category celebrates the timeless physique.
Bikini:
Focused on a lean and toned figure, bikini competitors embody the essence of feminine grace and athleticism.
Men's and Women's Physique:
These categories emphasize muscularity and athleticism, showcasing a well-proportioned and sculpted physique.
Fitness:
Fitness competitors demonstrate their physical prowess through a combination of strength, flexibility, and dance routines.
Figure:
Figure athletes display a balanced physique with an emphasis on muscle tone and overall aesthetics.
View this post on Instagram
How to Watch MR. UNIVERSE MONTENEGRO Show
If you can't attend MR. UNIVERSE MONTENEGRO in person but still want to catch the action and excitement, you can watch the show through various channels:
♦ Live Stream Online:
Check if the event organizers offer a live stream of the competition on their official website or through a dedicated streaming platform. Many sporting events, including bodybuilding competitions, are now available for live streaming, allowing you to watch from the comfort of your home.
♦ Television Broadcast:
Some major bodybuilding events, like MR. UNIVERSE may be televised on sports networks or channels. Be sure to look for TV schedules and listings to find out if the event will be broadcast in your region.
♦ Social Media and YouTube:
Keep an eye on the official social media accounts of MR. UNIVERSE MONTENEGRO and related bodybuilding channels on platforms like YouTube. They often upload highlights, interviews, and behind-the-scenes footage that can give you a glimpse of the competition.
Where to Watch MR. UNIVERSE MONTENEGRO Show
The availability of the show may vary depending on your location and the event's media partners. Here are some options:
Local Sports Channels:
Check with local sports channels or networks that often cover major sporting events. They may have broadcasting rights for MR. UNIVERSE MONTENEGRO.
Cable and Satellite Providers:
If you have a cable or satellite TV subscription, browse through the sports channels in your package to see if they are broadcasting the competition.
Online Streaming Platforms:
Popular streaming platforms like YouTube and Facebook Live are sometimes used to stream bodybuilding events live or provide post-event coverage.
How to Buy MR. UNIVERSE MONTENEGRO Tickets
If you plan to attend MR. UNIVERSE MONTENEGRO in person, here's how to purchase tickets:
Official Website:
Visit the official MR. UNIVERSE MONTENEGRO website or the event's official social media pages. They often provide information on ticket sales, including links to authorized ticketing partners.
Authorized Ticketing Websites:
Look for authorized ticketing websites or platforms that have partnered with MR. UNIVERSE MONTENEGRO to sell tickets. Ensure that you are buying from a reputable source to avoid scams.
Local Box Offices:
Depending on the event's location, you may be able to purchase tickets at the venue's box office in advance or on the day of the competition.
Resellers:
Be cautious when buying tickets from resellers or secondary markets, as prices may be inflated, and authenticity cannot always be guaranteed.
View this post on Instagram
MR. UNIVERSE MONTENEGRO Judging Criteria
Competitors in MR. UNIVERSE MONTENEGRO are evaluated by a panel of expert judges who consider various aspects of their physique. These criteria typically include muscle size, definition, symmetry, presentation, and stage presence. Athletes strive to achieve the perfect balance between muscle mass and aesthetics, setting high standards for themselves and their peers.
The Road to MR. UNIVERSE
Preparation for MR. UNIVERSE MONTENEGRO is a journey that requires unwavering dedication and sacrifice. Athletes adhere to strict training regimens and nutrition plans, pushing their bodies to the limits of their potential. The competition represents the culmination of years of hard work and perseverance.
FAQ About MR. UNIVERSE MONTENEGRO 2023
When and where will MR. UNIVERSE MONTENEGRO 2023 takes place?
The date and venue for MR. UNIVERSE MONTENEGRO 2023 is September 15th – September 17th in Tivat, Montenegro. Please visit the official website or contact event organizers for the most up-to-date information.
How can I participate as a competitor in MR. UNIVERSE MONTENEGRO?
To compete in MR. UNIVERSE MONTENEGRO, you typically need to qualify through regional or national bodybuilding competitions or earn a professional status in the sport. Contact the event organizers or check the official website for qualification criteria.
Are there any special events or activities for spectators at MR. UNIVERSE?
Some bodybuilding events offer additional activities such as meet-and-greets with athletes, fitness expos, and seminars. Check the event schedule and official website for details on any side events.
Can I take photographs or videos during the competition?
Photography and videography policies may vary, but many events allow spectators to take pictures and videos for personal use. However, professional-grade equipment or recording for commercial purposes may have restrictions. Always respect the event's rules and the privacy of the athletes.
Is there an age restriction for attending the show?
Typically, there is no specific age restriction for attending the event. However, parents or guardians should accompany minors, and age-related restrictions may apply to certain activities or areas within the venue.
Conclusion
MR. UNIVERSE MONTENEGRO is not just a bodybuilding competition; it's a celebration of the human spirit and the pursuit of physical excellence. As athletes from around the world gather in Montenegro to showcase their dedication and passion, they inspire us all to strive for greatness in our own lives. It is a testament to the power of the human body and the relentless pursuit of one's dreams, exemplifying the essence of fitness and excellence.